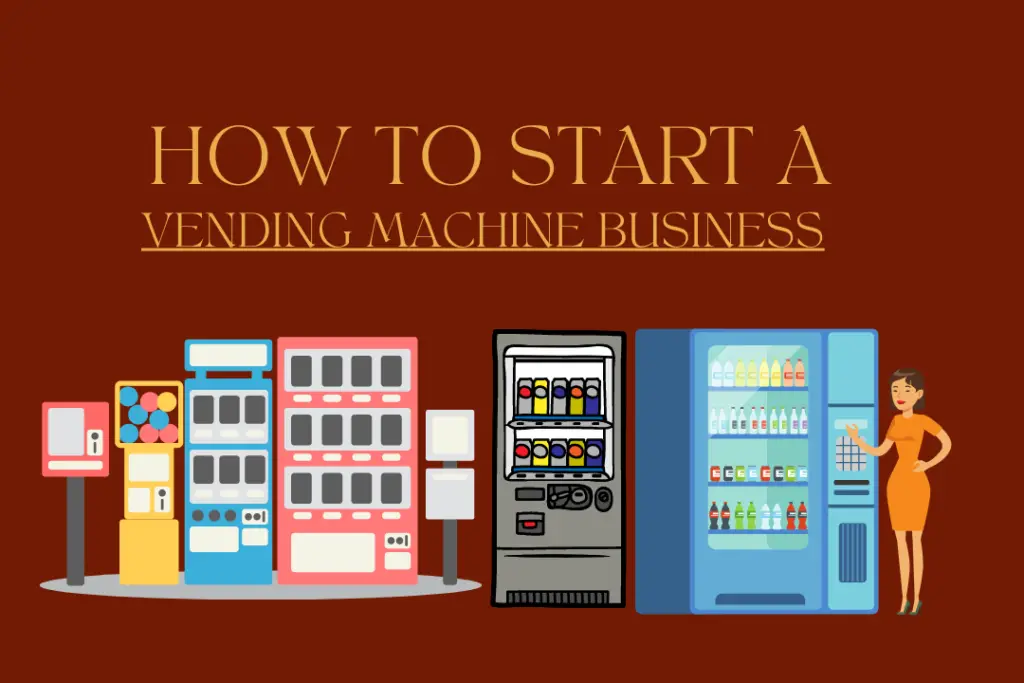 Vending machines have been around for decades serving people from everyday items, snacks, chips, and sodas to healthy foods. The business works on a convenient delivery mechanism, mainly using low-cost products. It is a low capital and lucrative passive business that anyone can start daily quickly.
Vending Machine Business Statistics
Vending machine market is a billion-dollar industry expected to reach USD 146.6 billion globally by 2027. The United States takes up a $36.5 billion market, making it a top country with most vending machines. It has almost 7 million coin machines.
The average American spends approximately $27 annually on vending machine products. With an average weekly revenue of $76, the owner makes about $300 profit every month.
Owning Vending Machine Business
Vending machine business requires a low startup capital ranging from five thousand to ten thousand USD. The following are some of the essential expenses related to vending machine business.
#1 Vending Machine
The vending machine itself is one of the significant investments in the business. The cost varies based on machine brand, type, and features. Your decision to buy a brand new versus a refurbished machine also determines the price.
A refurbished or used vending machine ranges from $1,500 to $5,000, while the same product brand new can go up to $10,000. It is always good to select a quality refurbished machine over a brand new one when you're just starting. It will protect you against significant potential loss should the business not work out for you.
Renting a vending machine can also be an option for some people. You might be able to combine vending machine rental with equipment maintenance, repair, and fill/ restock services altogether so that one company provides all the benefits. It might be costly but an option that you can explore.
#2 Vending machine Parts
Vending machine parts are usually a separate purchase unless you're buying the new machine with everything inclusive. Vending machine parts are coin acceptors, bill validators, and/or card readers for cashless transactions.
Accepting payment for goods is an integral part of the vending machine business: coins, cash, or credit cards. Depending on the mode of payment, you need different features.
#3 Inventory
Inventory refers to the products you'd like to sell in the vending machine. The merchandise also depends on the vending machine location and its necessity. The general vending products are non-alcoholic beverages (hot and cold), quick chips and snacks, cookies, and sweets.
The less common products to sell in vending machines are books, technology and fitness items, baby products, and ready-to-go meals.
#4 Lease
Vending machines take up the space and electricity of property and, therefore, would require an agreement with the property owner. Depending on how you'd like to approach it and the property owner's requirements, you can rent out the space on a monthly fixed price basis or a profit percent split. You'll need to work it out with the property owner/ manager before moving forward with the vending machine business.
One key aspect to consider is not signing the lease for more than six months. Agreeing to a lease contract for six months protects you against the possible loss if the business is unprofitable.
Vending machine location analysis
As with most businesses, the location is a significant factor in determining if the vending machine business will be profitable. You can not afford to go wrong on this. Location is the first thing you finalize even before purchasing a vending machine.
#1 Traffic
The location analysis consists of foot traffic who are the potential customers. Depending on the machine location, this can be anything from clerks, students, passengers, or patients who have easy access to the vending machine. Vending machine business is profitable at locations where traffic flow is high.
#2 Competition
The second element of the location analysis is the competition. In other words, does the location have any other vending machines, and how far are they located? Are there any nearby retail stores or restaurants selling the same items you're offering?
Pros and Cons of a Vending Machine Business
There are advantages and disadvantages to running a vending machine business. The business requires extra time and effort to make it profitable; however, it has excellent earning potential.
Advantages
#1 Low Capital, Low Risk
Vending machine business needs relatively low capital investment. Based on the choice of machines and product line, you can still get it for as little as five thousand dollars.
The low startup cost also means low risk. If you were to lose all the capital and investment, you'd not go bankrupt.
#2 Quick Start
Vending machine business can get started relatively quickly. Once you finalize the location, the machine and product selection can happen rapidly. With the machine delivered and stocked up, you're ready to make money.
The business does not have lengthy lease issues or space construction requirements. Also, you don't need to stock up the machine every day!
#3 Semi Passive and Flexible
The business is not entirely passive but does not require a lot of input from the owner. Research is probably the phase when it needs time and attention. Once the business is up, there is minimal to no involvement other than keeping it stocked.
The flexibility comes from the business being semi-passive. You can still be involved in a full-time job with the vending machine business. There is no in-person customer service involved. Also, all the transactions are automatic.
Disadvantages
#1 Limited Profit Potential
Since the vending machine business is small-scale, the profit per machine potential is limited.
Based on the thehustle.co research of 23 operators, the average per machine revenue is $309 per month. The operators make money when they multiply the machine owned. However, the profit per vending machine is limited.
#2 Theft and Vandalism
Theft and vandalism are the two significant risks in the vending machine business. Machines are located in a place that is easily accessible, which means vandals can get to them. Theft is also prevalent in vending machine business.
#3 Competition
Vending machine business is not new; therefore, there may already be an existing vending machine if you've found a perfect location. Being a low capital investment, it is more competitive. It is also competitive to place a machine at a high-traffic prime location. Therefore, there is a higher probability that the operator would have to share a profit cut with the property owner.
Is the Vending Machine Business Profitable?
The average monthly revenue from a vending machine business ranges from $85 to $800. The income from one vending machine may not seem lucrative, but on average, operators carry 13 vending machines based on the research by the hustle.co.
The vending machine business is profitable if you can scale up the number of machines you own. The vending machine business income depends on location, necessity, and products on the machine.
The Bottom Line
It is straightforward to get started with the vending machine business, but success comes to those who work hard. No business runs on cruise control. It needs consistent input from the owner to make improvements and progress. If you're ready to put in the effort and take on challenges, vending machine business is a perfect business model to start.