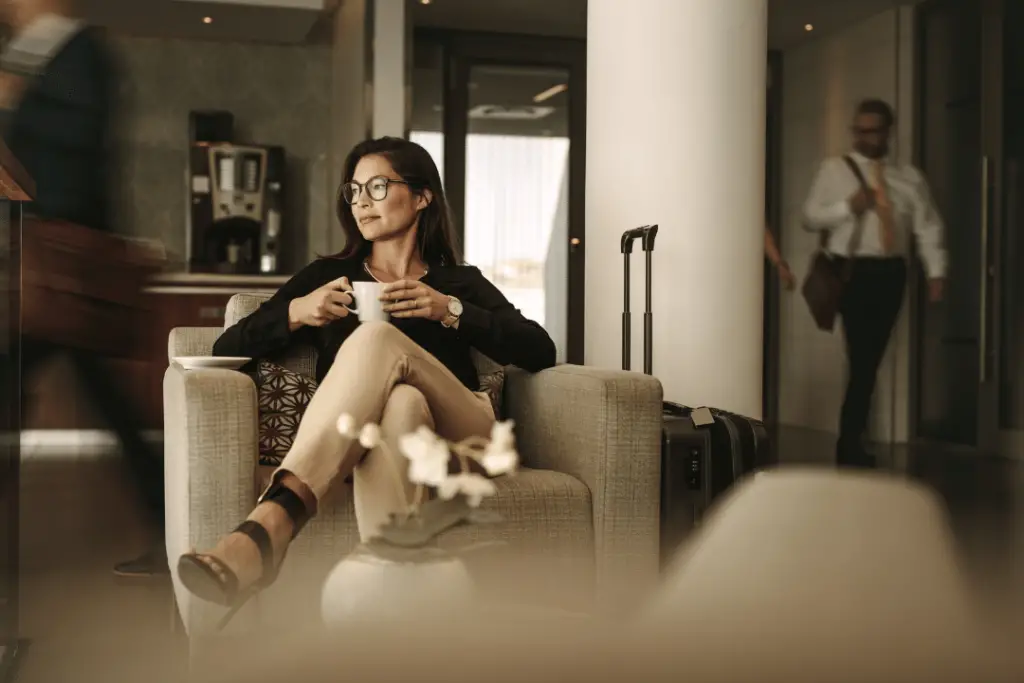 Flying is stressful, as is waiting hours at the terminal during a layover. Airport lounge access gives you one of the best travel experiences by reducing stress on your way to your destination.
But how do you get access to the airport lounges?
There are many inexpensive ways to get in, and one does not cost you a dime. If you're wondering how to get free access to the airport lounge, this is for you!
What are Airport Lounges?
The airport lounges are special facilities accessible only with a privilege. They are an escape place from the airport traffic while waiting for a flight. People use these places to stretch, relax or get back to business after an exhausting flight.
The airport's general waiting area is not always comfortable during transit. The inconvenience from the heavy airport foot traffic, early, early or long flights can be tiring. The airport lounge is a perfect place to spend some time in solitude while enjoying the complimentary amenities like food, drinks and seating, a quiet room, and internet.
How to Get Access to Airport Lounges?
Airline lounges are not accessible to everyone. It takes more than buying a flight ticket to access these facilities. Most people assume it takes a fortune to get lounge access in an airport; therefore, they never explore their options.
There are ways to join the elite traveler in these facilities, and some don't even cost you a dime. We'll explore different ways to gain access to the airport lounge.
#1 Become a Business Class Traveler
If you are flying first class or business class, most likely, you'll gain access to the business lounge. However, admission to these desirable places is not automatic. Every airline has its rules, and you're almost out of luck if you're not taking transcontinental flights.
You have the most chances to qualify for the opportunity if you fly in a premium cabin internationally. The domestic segment of an international flight might also get complimentary access to the lounges. Premium cabin travelers qualify for a discounted entry rate if free access is unavailable.
#2 Get a Priority Pass Membership
Not everyone can afford a premium cabin because of its steep cost. But if you fly frequently or occasionally, Priority Pass can be a gateway to these quiet spaces to relax, refresh and revive.
And, there is more!
Priority Pass membership can get you more than just lounge access. Airport dining, retail, and spa discounts are to name a few.
What is a Priority Pass?
Priority Pass is a travel companion that is an independent lounge access program. It is not associated with any airlines or elite travelers programs.
With Priority Pass, you can indulge in over 1,300 airport experiences in over 600 cities and 148 countries worldwide. The one membership will enable your access to all participating lounges.
Priority Pass Membership Plans
Priority pass has three membership tiers. And the higher the tier level, the better benefits you'll get. The pricing varies by country of origin and tier level selection.
For the US, a Standard membership starts from $99. The Standard Plus and Prestige memberships will cost you $299 and $429, respectively.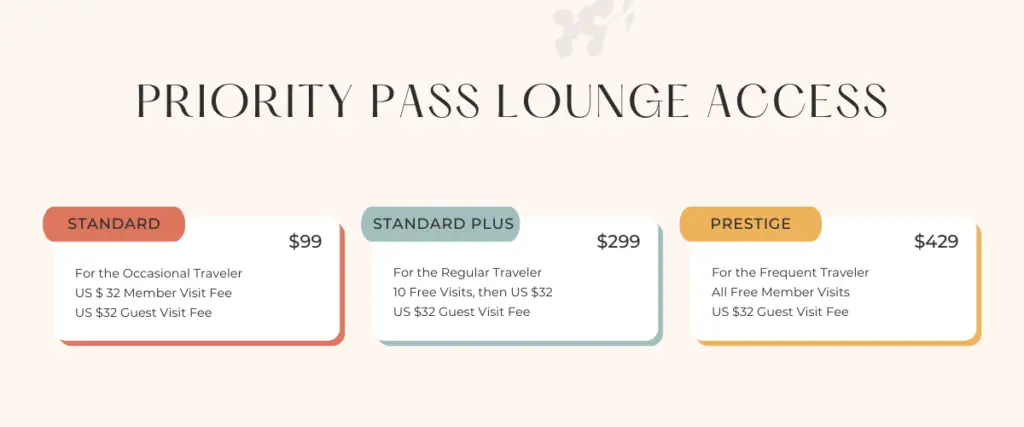 Are Priority Pass Lounges Usually crowded?
Priority Pass lounges are increasingly becoming crowded because of their easy membership accessibility. What used to be an exclusive perk only to the premium or elite travelers, now most, if not all, travelers can easily afford it.
If you want to sign up for the membership directly through Priority Pass, the highest tier costs less than $500 for an entire year. The one-time pass has become cheaper as many lounges have opened at airports. Additionally, you can score a free priority pass with some travel credit cards.
#3 Signup for a Credit Card with Perks
Credit cards are the easiest way of gaining access to airport lounges.
And the best part is, it does not cost you a dime.
However, not every credit card offers this unique perk. And the one that provides lounge access almost always has an annual fee. Therefore, it's improbable that your no annual fee credit card will have this benefit.
If you're looking to sign up for a credit card with a complimentary Priority Pass Select membership, it's worth looking into the credit card benefits section. The number of lounge entries in a year might also interest you if you're traveling with your spouse and kids.
Travel Credit card with lounge access
| Credit Card | Annual Fee | Admittance per Year |
| --- | --- | --- |
| Capital One Venture | $95 | 2 complimentary visit |
| Capital One Venture X | $395 | unlimited visit with up to 2 guest |
| Chase Sapphire Reserve | $550 | Unlimited complementary visit |
| Amex Platinum Card | $695 | Unlimited visit with up to 2 additional guest |
Hotel Credit card with lounge access
| Hotel Credit Card | Annual Fee | Admittance per Year |
| --- | --- | --- |
| Hilton Honors American Express Surpass Card | $95 | 10 complimentary visit |
| Marriott Bonvoy Brilliant American Express Card | $650 | unlimited complementary visit |
| Hilton Honor Express Aspire Card | $450 | Unlimited complementary visit |
Airline Credit card with lounge access
| Airline Credit Card | Annual Fee | Admittance per Year |
| --- | --- | --- |
| Citi® / AAdvantage Executive World Elite Mastercard | $450 | Unlimited complimentary visit with up to two free guests |
| Delta SkyMiles Reserve American Express Card | $550 | two complementary visit |
| United Club Infinite Card | $525 | Unlimited complementary visit with up to two free guest |
#4 Buy Your Way In
If none of the previously mentioned methods applies to you, purchasing a day pass is your last resort to escape the crowded airport terminal. When you have a long layover and are traveling with kids, you don't have any other option. You kids need space away from the airport chaos.
Not all the lounges are accessible through cash, but some are still available to all travelers. It'll cost you $60 on average. It may sound like a lot but compared to the benefits of having a quiet space, free drinks, snacks, and wifi, it is a cheaper getaway. Getting an airside hotel will easily cost you over $300 on a transcontinental transit. Therefore, paying for a day pass at the entrance might make sense.
Are airport Lounges Worth It?
Travelers usually struggle with the crowd, long wait times, and finding a place to settle at the airport. Airport lounges help take these travel-related stresses off your shoulder. With some premium amenities like a quiet area, kids' play area, shower facility, and nap rooms, you can relax and recharge for your trip. Airport lounges are worth it.
Regardless if you pay for the service or much better have received free access through credit cards, airport lounges are worth it.
The Bottom Line
Getting access to the airport lounges is not far-fetched anymore. What was once a rich man's oasis it's affordable to most for a minimal fee. You can even score multiple entries free of cost through one of the credit cards you already have. If not, you can always apply for a credit card with lounge access.