We've all seen YouTube Millionaires from every age group; kids, teenagers, and adults. These people learned the YouTube algorithm and racked up millions of views on their content, generating consistent income every minute. If you're wondering how much money YouTubers make and how to get started on your YouTube journey, you've come to the right place. In this post, I will share detailed analytics from my wife's cooking Channel, NewariKhajaGhar, to help you get started.
My wife's cooking channel has over 8,000 subscribers. While it is not a huge success, it will help understand how YouTube monetization works and how much you should expect. You can read more about her journey in an article by Houston Chronicles.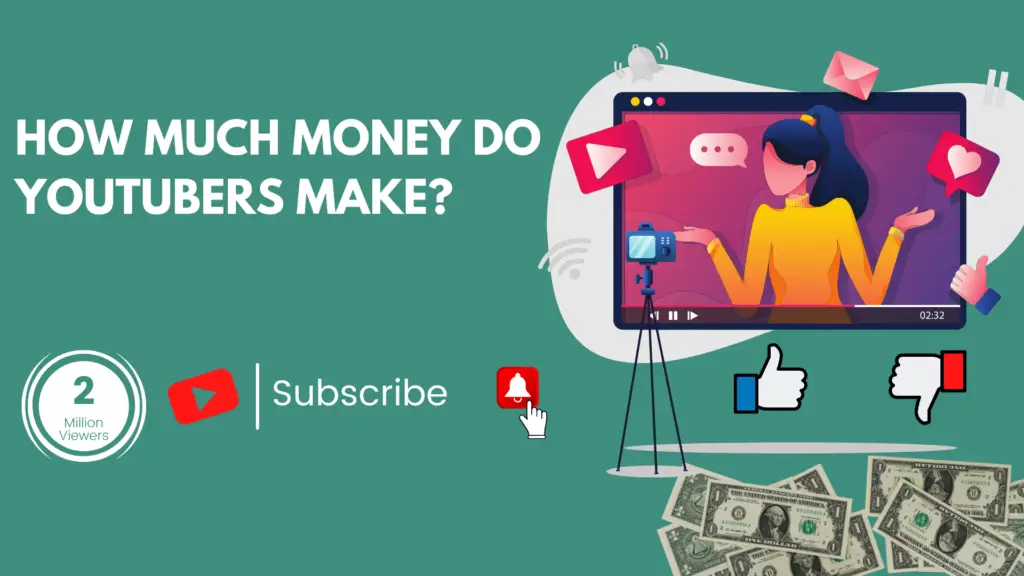 Why Would You Want to Start On YouTube?
YouTube is one of the best and biggest online platforms for viewers and content creators. According to the US adult survey, this online video content giant engages 81% of internet users compared to the other selected social media networks. The site has over 5,000 hours of video uploads every minute. Its user base has grown over 2 billion worldwide.
Everybody has a smartphone that can produce high-quality videos, which is the only element needed to get started with YouTube. You don't need any special training. YouTube is one of the most popular and easy platforms to make money online.
How to Start a YouTube Channel as a Beginners?
You must have a Google account to create a YouTube Channel. Once you sign up for a Gmail account (your Google account), you can head over to youtube.com and sign in. Now you have access to YouTube content.
To create a YouTube Channel, click on your picture icon on the top right corner and go to settings.
An account page will open, where you can create a new channel under the "Your YouTube Channel" section.
Once you add your channel name and accept YouTube's terms, click "Create" to create your YouTube Channel.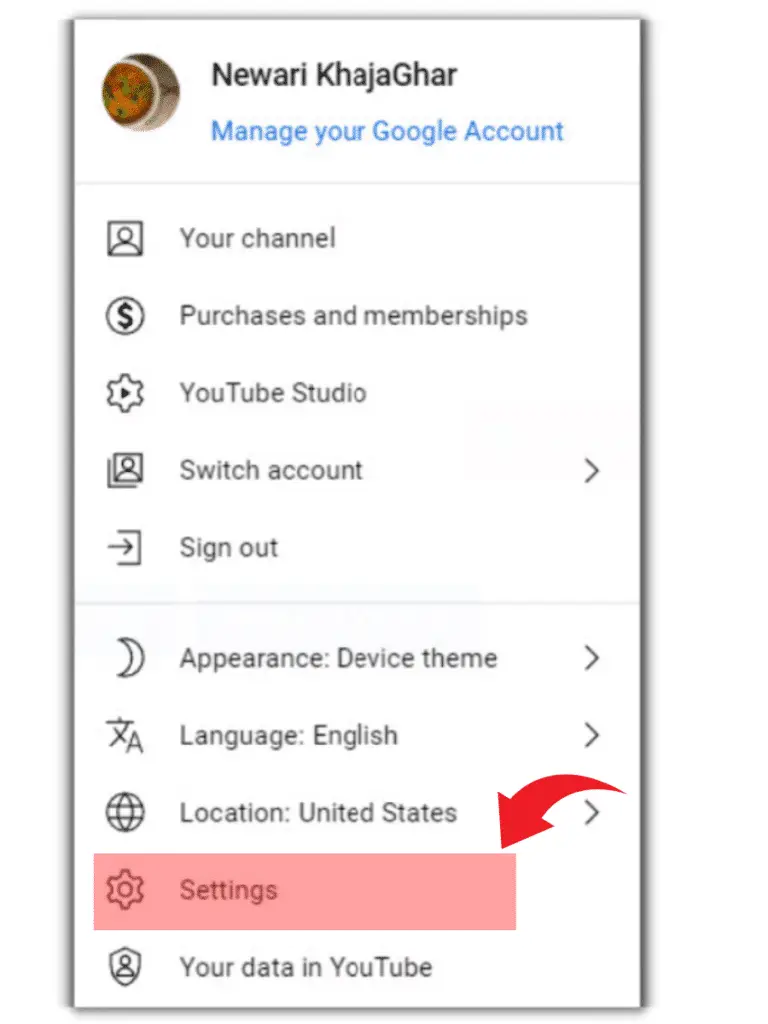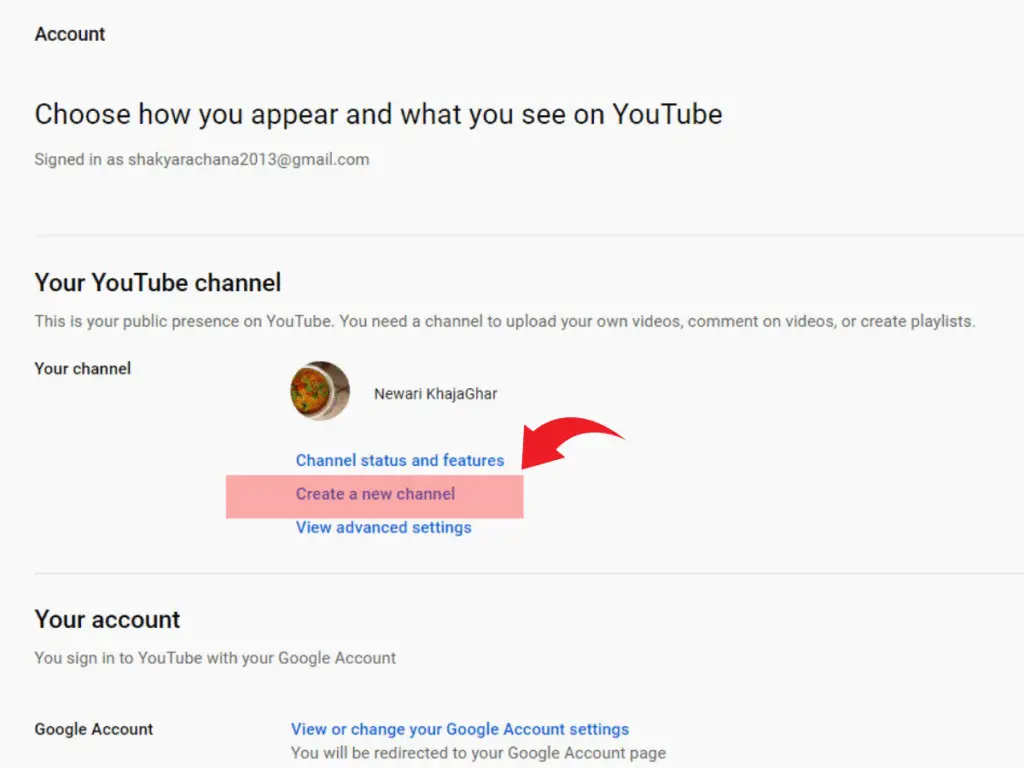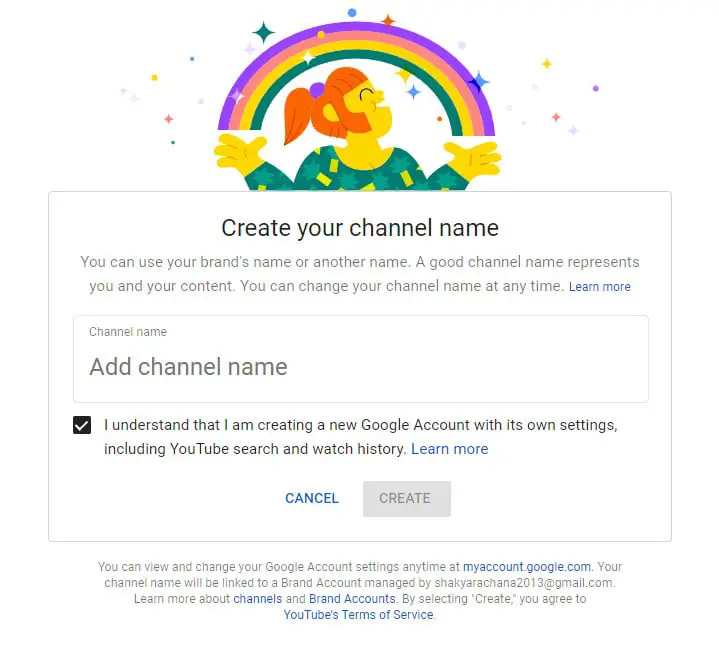 How to Change the YouTube Channel Name?
If you already have a Google account and your YouTube channel name is same as your Google account name, you're probably looking for ways to change your channel name.
Well, good news for you!
You do not have to run your YouTube Channel with the name you signed up your Google account with. You can change your channel's name without affecting your name on the Google account.
Follow the following simple steps to change your Channel name.
Log into your YouTube account and go to YouTube Studio.
Click on Customization on left sidebar to go to channel customization page.
Click on Basic info on channel customization page.
Click on pencil icon next to your channel name to edit it.
You can watch the following step by step guide to change your YouTube channel name.
How do I start a YouTube channel for kids?
YouTube has a place for every age group. Children equally love it as much, if not more, as adults. The engaging video content on the platform can keep kids hooked for hours. It can intrigue their curiosity to have their own YouTube Channel.
Starting a YouTube channel for kids involves a few key steps. First, you should research the target audience and create appropriate and engaging content for children. Besides setting up a YouTube account and channel, You should ensure that your content complies with the platform's guidelines. Promoting your channel and engaging with your audience through social media and other channels is also essential. Remember always to prioritize the safety and well-being of your young viewers.
YouTube terms of services state that you must be at least 13 years old to use the service. Kids under 13 can still use it under parental permission or supervision. Parents can create kids' accounts and start the channel. Kids over 13 can create their accounts.
YouTube is also a great place where kids can start generating income. It is just like one of those kids job that is just little more exciting .
How to Edit YouTube Videos?
Editing is an integral part of content creation. You'd want to edit your videos to add voiceovers, background music, sound effects, trim unnecessary parts of the clip or enhance overall video quality. A good chunk of time is spent on editing during postproduction.
Different online or computer software options are available for video editing. The option ranges from free to professional-grade editing software. You probably want to start with the low-cost editor, if not free, and then move to better and more flexible options as your channel grows.
How Do You Edit YouTube Videos for Free?
Among many videos editing tools available, the free options include YouTube's native video editor, windows movie maker, iMovie for Apple products, blender, Lightworks, and Hit Film Express. Some of these options are completely free, while others have a premium version.
The following table shows the free video editing software list and its pros and cons. I've also added my recommended software to help you decide.
Software
Pros
Cons
Multicam editing,
No Watermarks,
Pro upgrade available
Complex user interface
Slow render
Professional quality,
No Watermark,
Pro upgrade available
Advanced user targeted
Easy to use,
preloaded animations
Limited functionality
visual effects,
high grade export quality
Slows down computer,
limited free version
Easy to learn,
No Watermark, effects and filters available
Only available for Mac users
What do YouTubers use to edit videos?
The use of video editing tools or software depends on your requirements, budget, post frequency, and type of viewers you have. A beginner YouTuber might not need expensive software.
Similarly, DIY videos may not need high-quality videos, unlike fashion, travel, and vlog channels. A talking head video will be edited differently from videos with background music and captions.
Nevertheless, investing money in a professional video editor is always wise for flexibility and functionality. Unlike premium software, free software can be limiting and prevent you from creating more content on less.
The following are some of the video editing software that most YouTubers use.
Software
Pros
Cons


Most popular softaware,
Video eidting & Color correction
Easy to learn
Expensive,
high speed graphic cards necessary for rendering
Professional quality software
easy to work with
extensive library
Mac users only
expensive
Inexpensive
can be used for quick edits
drag and drops
limited for Pro users

We started editing videos using Lightworks and blender. We selected the free video editor because we didn't have a big budget. However, the free does not mean easy.

As we started posting frequently, we switched to Wondershare Filmora because it was easy to use, reducing the postproduction time. Our switch to Adobe Premiere Pro was the final. It is professional software that most YouTubers use.

Newari KhajaGhar
How to Edit YouTube videos on iPhone?
Nowadays, almost everyone carries a smartphone. While its main purpose is to make and receive calls, this small gadget can create high-quality content close to expensive cameras. The modern smartphone is a powerhouse of creating high-quality and engaging content.
You can shoot and edit videos directly from your iPhone. You can adjust video quality, lighting, color correction, and trim video easily from an iPhone. Crop, rotate, and add filters are basic functionality of an iPhone. The following video will demonstrate how to edit videos on an iPhone.
How to Make Money on YouTube?
There is no doubt that everybody wants to make money. You might have started a YouTube channel out of curiosity or fun; you'd, most likely, think about monetization at some point. Here are five common ways of earning money on YouTube.
YouTube AdSense Revenue
It is one of the basic methods of monetizing your YouTube Channel. You need to apply and get approved for a YouTube Partner Program to get started. Almost every YouTube user takes advantage of this program. It is very easy to set up and get started. However, you must meet the minimum requirement to participate in this program.
YouTube Partner Program Requirements
If you're wondering how many views you need to make money, then it's worth reading the YouTube Partner Program (YPP) requirements. The following are the minimum eligibility requirements to join YouTube Partner Program and start monetizing your YouTube Channel:
1. Over 4,000 watch hours in last year,
2. At least 1,000 subscribers,
3. A Google AdSense account, and
4. Agree to YouTubes policies and guidelines.
YouTube will not pay you anything until all the above requirements have been met. However, it will continue to show ads on your videos.
Sponsorship
Brand sponsorship is another source of income on YouTube. The brand deals and amount paid on each video depend on your channel's subscriber base and content relevance.
The best part about brand sponsorship is you get to negotiate the price of your work, and YouTube can't cut a share on the that amount, unlike on YouTube ads. The sponsorship deals are hard to come by, but they will, once you have a decent number of subscribers.
Affiliate Marketing
Affiliate marketing has been around since the 90s, well before YouTube was even born. It is an online referral program where online associates bring traffic to the business websites.
Affiliate marketing on YouTube can be as basic as simply placing trackable links on the video description to creating how-to or product comparisons videos and then linking them in the descriptions.
Since this is not a product offered by YouTube, you normally sign up for an affiliate program with the business of your choice and generate links to products and services that you'd like to share with your audience. These links are shared in the video description on your channel. You get a commission when someone clicks on the link and purchases it.
Merchandise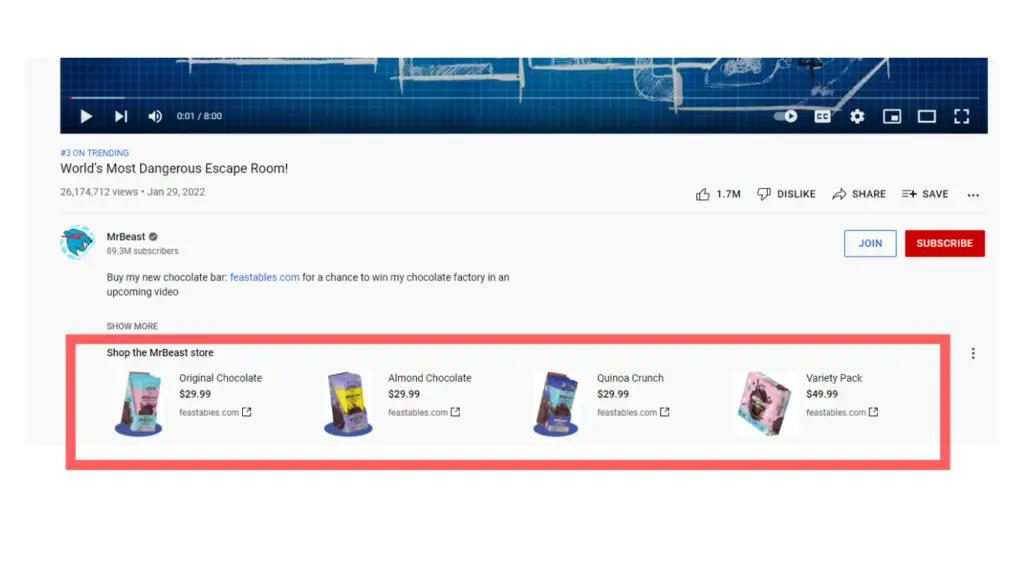 YouTube is one of the best platforms to promote your products. The best part about promoting your merchandise on YouTube is it's free, and there is no limit to time and space for your content. Another great thing is that YouTube has a huge content consumer. You can promote the products with videos organically or push them up in ranking through ads.
Crowdfunding
Crowdfunding is mostly for well-established YouTubers who have many loyal subscribers. The viewers contribute to their favorite YouTube creators to support the channel. It helps the creator to keep on producing more content. The content creator can also offer perks like access to premium content for contributors to motivate the funding.
Content creators and artists can sign up for crowdfunding programs like Patreon and set up the payment system. The viewers can then contribute to the content creator through a link in the video description.
Crowdfunding also acts like a membership program, where paying subscribers get insiders scoop on premium content. It can be accessed to template files, exclusive contents, or live Q&A sessions.
We only makes money through YouTube ads and affiliate links. Because our subscriber base is small, we have not gotten brand sponsorships. We are not invested in the channel that much now; therefore, we have not investigated the other avenues.

Newari KhajaGhar
How Much Money Do Youtubers Make?
YouTubers make money from nothing to millions of dollars. The top YouTubers' earning goes over 54 million.
Yes, you heard it right! 54 million with 6 zeros on it.
You can stop working with that kind of money. If you have all the money invested, based on the 4% safe withdrawal rate, you can withdraw $180k every month and still not run out of money ever. It can feed your multiple generations.
How much do top YouTuber earners make?
The following is the list of the top 10 YouTubers based on their estimated net worth, according to Statistica. They have huge subscribers, all over a million. The estimated gross earnings are astonishing. However, it does not account for the video production cost.
Youtuber
Subscribers
as of 2022

Estimate Gross earnings
Mr Beast (Jimmy Donaldson)
89 million
$54 Million
Jake Paul
20.4 million
$45 Million
Markiplier (Mark FIschbach)
31.7 million
$38 Million
Rhett and Link
4.99 million
$30 Million
Unspeakable
12.9 million
$28.5 Million
Nastya (Anstasia Radzinskya)
86.1 million
$28 Million
Ryan's World (Ryan Kaji)
31.6 million
31.6 million
Dude Perfect
57.1 million
$20 Million
Logan Paul
23.3 million
$18 Million
Preston Arsement
18.9 million
$16 Million
How Much Do Youtubers Get Paid?
YouTube does not pay for everything that it receives from the advertisers. You share 45% of the total earnings with YouTube and only get 55% of what advertisers pay.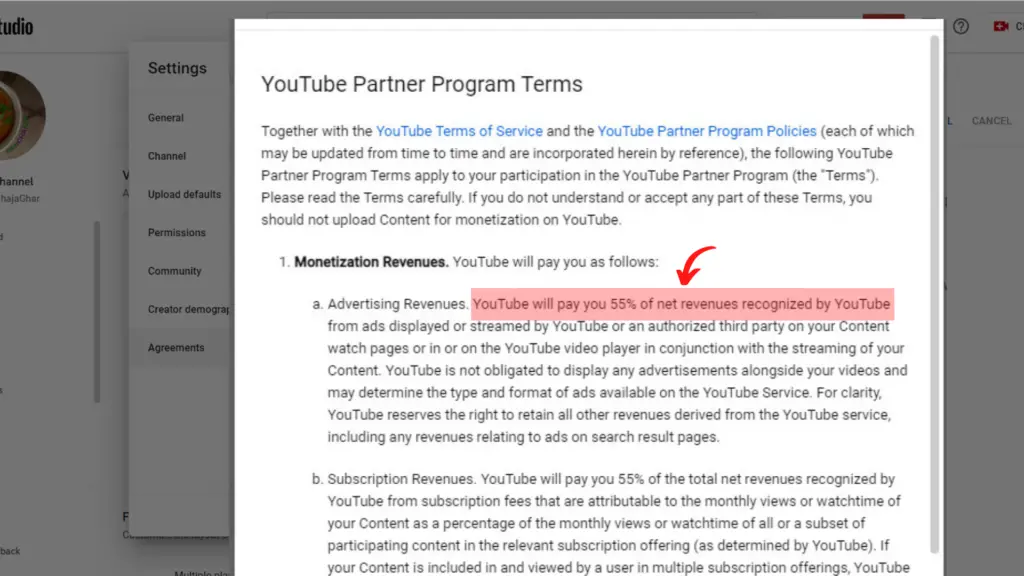 How Much Money Do You Make per 1,000 Views on YouTube?
The earning per 1,000 ad views on YouTube depends on several factors. It is not one size fits all. The average YouTubers make a few cents to $10 per thousand video views.
A few factors that affect the ad revenue per 1,000 views are types of ads on the video, the content category, language, and geographical location of the video and views.
You could have millions of people watching your content and still not make a dime if you did not turn on ads.

Newari KhajaGhar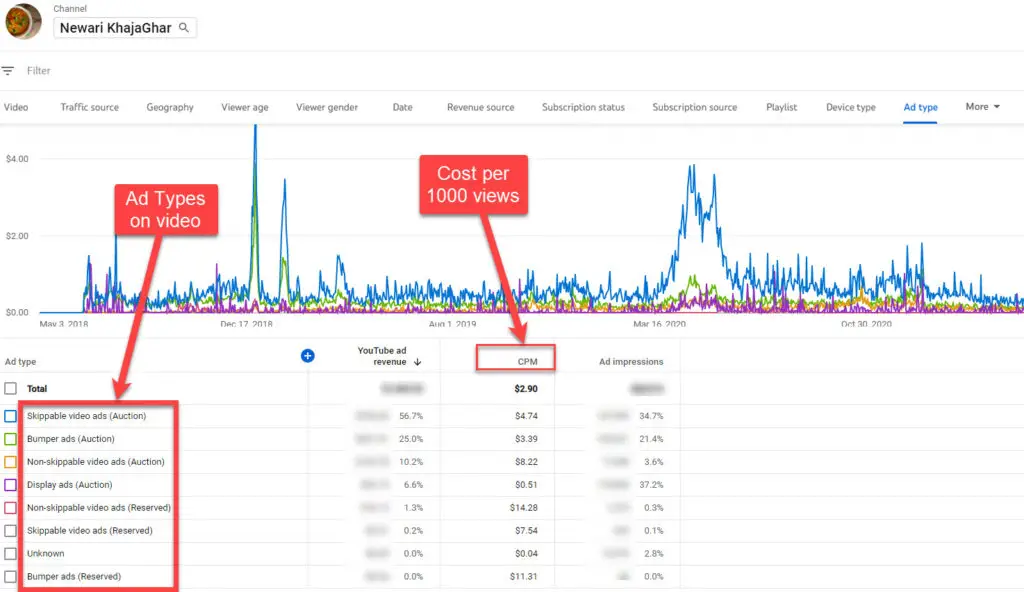 Revenue Per Mille (RPM) tells you how much money you've earned for every 1,000 views. On the Contrary, Cost per 1000 ad impressions (CPM) calculates an advertiser's cost for each 1000 ad impressions. The RPM is lower than the CPM by YouTube revenue shares.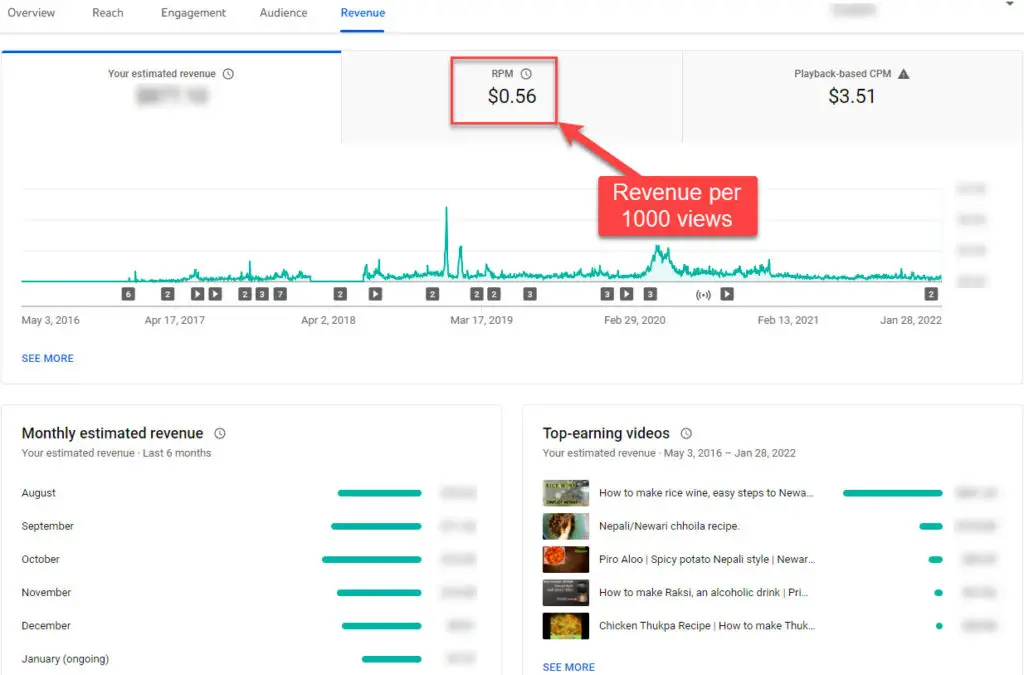 What is good RPM on YouTube?
The RPM can vary depending on various factors, such as the topic of the video, the advertiser demand, the audience demographics, and the type of ad format.
There is no fixed or "good" RPM on YouTube, as it can fluctuate widely. However, an RPM of $2 to $10 is generally considered suitable for most YouTubers. YouTuber's success depends on its overall channel performance, audience engagement, and other factors.
How Much Does YouTube Pay For 1 Million Views?
YouTube does not pay per video views. It pays based on the ad views.
An ad on the video does not show up every time. Different video formats are displayed on different occasions and different devices. Sometimes two ads are displayed while there is only one or none other times.
YouTube's complex algorithm determines when and how many ads to display to a viewer. Therefore, your YouTube Channel's revenue is calculated based on the estimated monetized playbacks rather than the actual number of views.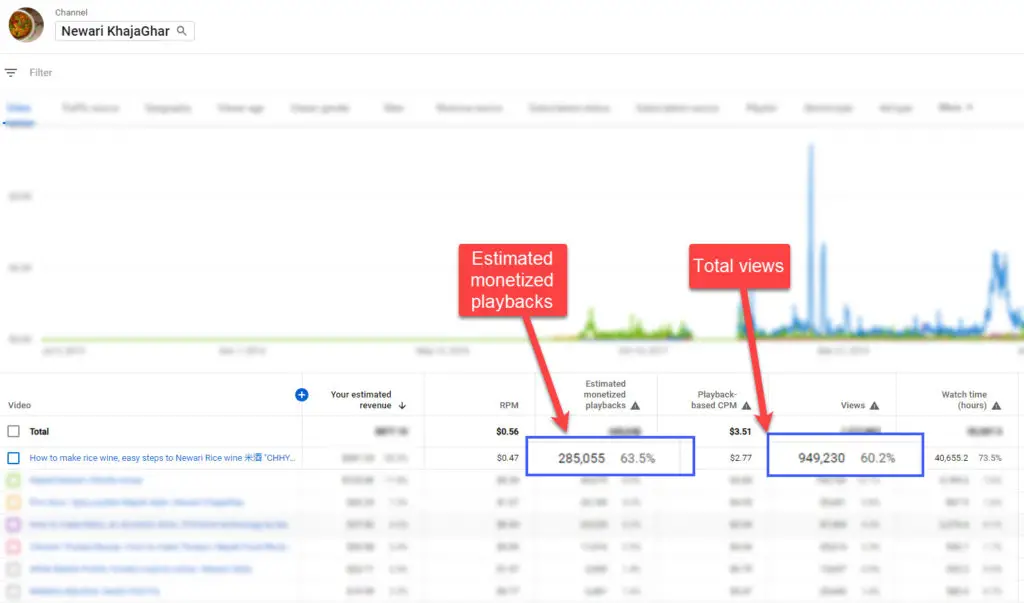 Let's see an example of Newari KhajaGhar's s most popular video – how to make rice wine? It has received almost 950K views. Still, the estimated monetized playbacks account for only 284K views.
How Much Do You Make on YouTube?
YouTube is a content game; therefore, your earnings depend on how consistently you post on YouTube and how well they perform.
With only one high-performing video on the channel and no more new posts, Newari KhajaGhar makes almost $30 in 3 months. The last posted video was a year ago. My wife and I have other priorities; therefore are unable to keep up with generating content. The earnings potentials go up if you upload videos regularly and have high subscriber engagements.
How to Become a Youtuber?
If you are working on an idea and want to start a YouTube channel or you want to promote your small business, the following are some of the advice to become a YouTuber for a beginner:
Start a YouTube Channel in your Niche. The Niche should be the one that you are most passionate about and will never get bored.
Learn how to shoot, edit, and optimize the post. While learning is an ongoing process, you need to know the basics.
Do not try to make a perfect video. The first couple of videos will suck, and that's okay. Learning and improving are the key.
Upload videos consistently. The first 100 subscribers are very hard to get. After the 100 milestones, things will fall into place.
Make mistakes and enjoy the journey. Following your passion is supposed to be fun.
Don't spend money on expensive gear when you're just getting started. It's the quality of the video that matters. Content is the key. Creativity will help you get away with anything.
How to Make Money on YouTube Without Making Videos?
The best way to make money on YouTube is by making videos. That does not mean you always have to show the viewer something to grab their attention. You can start a YouTube channel with no videos and still monetize them. The following are the list of ways to make money on YouTube without making videos:
Book Review
Book review channels do not need a video to show it to their audience. The viewer is only interested in the audio and discussion part of the video. A picture slideshow of the book or graphics is all you need to engage the audience.
Movie Review
Movie review videos do not require you to shoot your videos. The videos will be clips from actual movies. You'll only be adding voiceovers for explaining the details.
Reaction Videos
While reaction videos require you to shoot your videos, piggy banking from the popular videos for the main content, the preparation and content creation take much less than starting from scratch.
Screencasting or Recorded Gaming Videos
It is very popular among teens nowadays. The live stream and the recorded videos do not require you to shoot the video independently. Screen capture software will record the videos while you're playing video games. It, however, requires some effort to edit unnecessary clips.
Takeaway
YouTube is one the best platform to be for generating revenues. Whether you want to showcase your skills, know how to do certain things, or cater to your products or merchandise to the potential buyer, YouTube can be the best platform. Even though the money you make on YouTube is very small, it is a great source of passive income. There is no limit to the earning potential.