How inflation has affected credit card use by region
Americans are increasingly borrowing money to cover their expenses as inflation continues to hit household budgets nationwide.
Experian analyzed how credit card usage has changed in every state and compared it to regional inflation using data from the Bureau of Labor Statistics. Regional credit card usage was calculated by summing population-weighted state averages.
Regions that saw slower growth in consumer prices saw more growth in credit card usage, according to Experian and the U.S. Census Bureau. In fact, all 50 states and Washington, D.C., saw an increase in credit card spending compared with the prior year.
With interest rates on the rise, consumers could feel a heavier burden if they don't pay their full credit card balance each month. By the second quarter (Q2) of 2022, the average interest rate for a credit card issued by a commercial bank was 16.65%—a near return to pre-pandemic levels after dipping slightly at the end of 2021. In the third quarter, that rate has continued to tick upward, reaching 18.43% in August, according to the Federal Reserve.
Consumers have also seen their purchasing power decrease. Retailers, businesses, gas stations and service providers have raised prices over the past two years, seeking to make up for shortfalls in labor, hiccups in their supply chains, and increases in fuel prices as well as to grow their profit margins. Meanwhile, spending on personal and household goods and services jumped an average of 12.7% across 50 states and Washington, D.C., in 2021—a strong consumer rebound after a drop of 1.9% in 2020.
In July, consumer spending dropped by 0.2%, signaling that the U.S. economy could be slowing as consumers were pulling back and rethinking their budgets amid elevated prices. But spending habits picked up again in the fall, rising 0.8% in October, suggesting that shoppers may still be willing to spend heading into the holiday shopping season.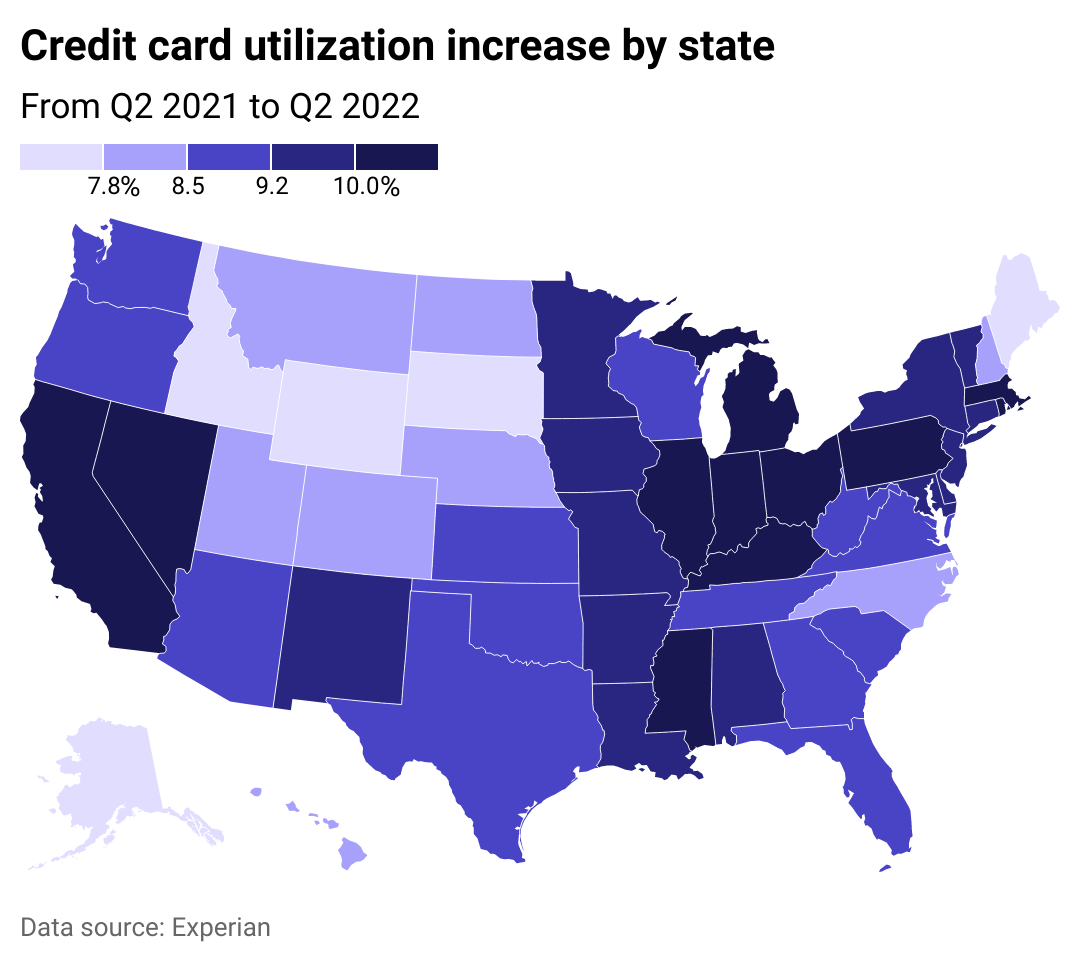 Experian
States with the highest credit card usage growth
The beginning of 2020 saw the onset of COVID-19 and the halt of social events, in-person dining and shopping, and other activities. Americans were paying down more of their credit card debt—and more made payments on time, according to Federal Reserve data.
At the end of June 2022, credit card usage was up more than 7% compared with the same period one year prior in nearly all states. Alaska, South Dakota, and Wyoming were the only states where usage grew at a rate below 7%.
Credit card use in the Northeast
– Credit card usage growth, Q2 2021 to Q2 2022: +9.92%
– CPI growth from June 2021 to June 2022: +7.63%
Northeastern states saw the lowest growth in consumer prices relative to other regions of the U.S. from June 2021 to June 2022. Consumer prices in these states were already above average for the U.S. going into the pandemic, and were the second-highest regionally in June 2022, according to BLS data.
Higher gas prices, which inflation and global crises have contributed to, can be particularly difficult for Northeastern consumers, who tend to pay more due to their distance from oil-producing states. Massachusetts led both the region and the nation with the highest personal consumption expenditure in 2021 at $58,532 per capita, according to the Bureau of Economic Analysis.
Credit card use in the Midwest
– Credit card usage growth, Q2 2021 to Q2 2022: +9.87%
– CPI growth from June 2021 to June 2022: +9.50%
In Midwestern states, consumers' credit card usage grew the second-fastest in the nation, behind only the Northeasterners. Michigan saw the region's highest growth in credit card usage from June 2021 to June 2022, at 10.94%. Residents of states bordering the Great Lakes are also known to pay more than the average U.S. consumer for gasoline.
When it comes to personal spending, Midwesterners' spending ranged between $49,558 per capita in Illinois to $41,758 per capita in Iowa. South Dakotans increased their spending the most compared with their neighboring states, with a 14.1% percent increase in consumption from 2020 to 2021.
Credit card use in the West
– Credit card usage growth, Q2 2021 to Q2 2022: +9.81%
– CPI growth from June 2021 to June 2022: +8.75%
Western residents faced consumer price increases that were the second-highest in the nation from June 2021 to June 2022. But they were behind two other regions for growth in credit card use.
Californians—who used their credit cards 11% more over the past year, the country's highest increase—also pay some of the highest gas prices in the nation. Prices at the pump are driven partly by markups based on the state's distance from the oil-producing Gulf Coast, as well as higher state taxes on gas at the pump.
Utah and Idaho led the nation for the largest growth in personal consumption expenditures. In 2021, Utah and Idaho consumer spending grew by 16.3% and 16%, respectively, with recreational vehicles and goods contributing the most to Utah's growth since 2020.
Credit card use in the South
– Credit card usage growth, Q2 2021 to Q2 2022: +8.96%
– CPI growth from June 2021 to June 2022: +9.84%
Growth in credit card usage was lowest in southern states, including South Carolina and Florida. Prices in these states went up more than in other regions from June 2021 to June 2022.
In 2021, Florida was the third-highest state for increased personal consumer spending, at 15.6% growth since the previous year. Floridians paid for more food services and accommodations, which were the categories that most boosted the state's spending growth. Overall personal spending in the South ranged between $50,689 per capita in Florida to $36,445 in Mississippi, where residents spent the lowest per capita in the country.
This story originally appeared on Experian and was produced and distributed in partnership with Stacker Studio.