If your work involves a lot of writing emails, letters, essays, blog posts, professional papers, or presentations, you must have heard about Grammarly. The free version of Grammarly works fine in most cases, but the premium tool provides extra benefits.
While it is not cheap to sign up for Grammarly premium, I'll explain the two best methods to save money on Grammarly premium that works. It does not require coupons code, discount codes, or clicking dubious links. One of the Grammarly discounts is as cheap as $3 per month.
What is Grammarly.com?
Grammarly.com is an online writing assistant that serves writers to level up their text communication. It is usually for anyone with any writing skill. In addition to grammar, punctuation, and spell check, Grammarly promotes streamlined and effective writing.
Grammarly identifies critical correctness, clarity, engagement, and delivery issues with a document. It provides real-time suggestions for improvement. It also helps enhance the vocabulary and flow of the words.
Grammarly Chrome plugin
Grammarly Chrome plugin is an easy-to-add extension on the Chrome browser available in the Chrome web store. The extension will check for grammar, spelling, style, and tone of all the ongoing written tasks.
With the addition of the Chrome extension, you'll get real-time suggestions on any text content on Gmail, Google docs, social media for improvements. It will help deliver a clear and concise article.
Grammarly google docs
Grammarly google docs extension is not a separate plugin but the same Chrome browser extension. Once you add Grammarly chrome extension, a full-fledged Grammarly becomes available when you open google docs through a Chrome web browser.
Most writers love to begin writing in Google Docs. Therefore, it is indispensable to have Grammarly supporting google docs.
Grammarly in Word
Grammarly has a desktop application that you can download and install on Mac or Windows. Once installed, it integrates seamlessly with all the computer applications like Microsoft Word, Outlook, and social media.
Once integrated with Word, Grammarly will show up on a separate tab with a menu ribbon, and you can enable it. You can pause it temporarily while writing or edit the content as you go.
Grammarly features
Besides correcting grammatical errors and complex sentences, Grammarly has many other features that every writer needs. Its real-time writing suggestions cover over 400 checks, including vocabulary and citation suggestions. The following are some of the extra features which make Grammarly easy and unique.
Integrates with almost any applications
It works with email and messaging applications, social media programs, and word processing applications. Grammarly works with almost anything that involves writing.
There are Grammarly apps for desktop and Mac users. It integrates with iPhone, Android, and Tablets.
Grammarly plagiarism checker
Grammarly has one of the most lightweight and straightforward plagiarism checkers built into it. I have used other plagiarism applications, and trust me; they take a long time to analyze the text. The work is only a few seconds away with a Grammarly plagiarism checker.
Content writers know how crucial it is to have original content. Even if it is unintentional, plagiarism can hurt your content and trustworthiness. You always want to create content that is true and original.
Grammarly Insights
Grammarly insights email is one of my favorite features. Grammarly sends you your weekly writing update, consisting of your productivity, mastery, and vocabulary. Even though it is a part of their marketing campaign, I love the detailed stats.

The insights also identify your tone of writing and top mistakes, allowing you to improve and grow. Its achievement badges on different writing milestones are fun to look at and inspire you to produce more content.
Is Grammarly free?
Yes, Grammarly is free for everyone to download and use. Once you create an account, you can fire it up immediately and start creating content.
However, if you're looking for advanced features like unclear and lengthy sentence restructure, tone adjustment recommendations, plagiarism checks, pattern repetitions, etc., you should opt for a premium account.
Grammarly premium price
Grammarly premium annual plan subscription costs $144 if paid in full. You can also sign up for its $30 monthly plan.
Grammarly also has a business membership program that costs $25 per member per month for a team of 3 or more users.
How to get Grammarly premium discount?
If you've decided to get a Grammarly premium but can't afford the total price, I'm going to share some creative ways to save money while signing up for Grammarly premium. I tested and tried these tricks. Some tricks might require extra work or effort, but hey, if you want to save money, it's worth it.
Right?
I always like to test the application before committing to a full-year subscription. If I can find a cheaper way to do it, I'll go for it. The best way to save money on Grammarly premium are as follows:
Sign up for Affiliate Program
Grammarly offers an affiliate program through their website. Anybody who wants to join can sign up for its affiliate program, which is free and easy. People get on board within a few minutes. They also have a high commission for conversion.
Affiliate marketer receives $0.20 for free account sign-up and $20 for a premium upgrade.
I'm sure you know how affiliate marketing works, but do you know Grammarly offers a free 1-month subscription to Grammarly premium to its affiliate marketers? To make it better, you don't have to provide any credit card information to get this deal. All you do is send them an email for a free 1-month premium subscription, and they'll activate your account. You can test it for a month.
Do you know what's better?
Once your free monthly premium subscription ends, Grammarly will email you to come on board with a premium subscription for half the price.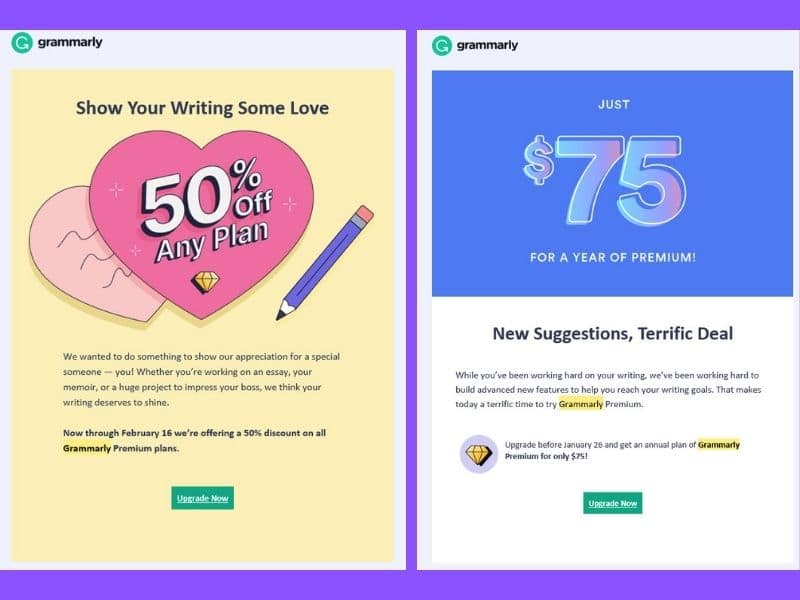 You can get up to 50% discount through this method. It does not get any better than this.
It is a fantastic way of testing Grammarly premium for free for a month. Once you're ready, you can take their 50% off offer to sign up for their yearly subscription.
Group Buy Program/ Shared Account
Before concluding that I should not be promoting it and it might be illegal, hear me out first.
It is for those beginners who can't afford the premium plan yet. You'd like to sign up for the premium or business plan down the road, but currently, you're not ready. We all want to test our purchasing products before committing to a full year. Also, we do not make as much money to afford everything we need from day one of our business.
Therefore, you need a cheap solution. Also, I do not fully support group buys or shared accounts because they tend to be dysfunctional from time to time. If you can afford to wait if it does not work for a few hours, if not days, and want to save money while testing products, this may be one of your options.
BundledSEO is one online group-buy program that provides several tools for creators and bloggers. You can subscribe to blogging tools like Ahrefs, SEMrush, or Moz for less than $10 a month; each would cost over $100 monthly.
BundledSEO offers Grammarly premium for $5 per month. I'd reiterate that you should not plan to use the group buy programs forever. The Group-buy program provides excellent means to test out the tool and determine it is the right one for you, but they are not 100% reliable.
My experience with Grammarly premium through BundledSEO is mixed. The tool has almost all the individual Grammarly premium features, but you can't save the file and download it as an MS Word.
Sometimes when you're using a shared account, all the members have access to your files too. You can delete your files after the review is complete, but it is inconvenient. Their server sometimes goes down, but they have a customer support help desk and usually resolve issues within 24 hours.
Conclusion
Grammarly is a great tool that should be in your tool arsenal if your work involves writing. Bloggers, copywriters, research paper writers, lecturers, and college students can benefit from it.
It always comes down to money when trying to use the best tool in the market. I hope you'll choose the two best ways to get the deal discussed above wisely for your successful writing journey. Whichever you choose, I believe you should always choose to save money as much as possible until you can afford it.